Agriculture
The farming system of the European Union is broken. Intensive agriculture is driving nature loss, exacerbating climate change, harming our health, depleting natural resources and polluting our land, water and air. To make things worse, this model of agriculture is funded by taxpayers' money through the EU's Common Agricultural Policy, the CAP. The way we farm in Europe must change.
The EU's agricultural policy is still anchored in an outdated model which prioritises increasing productivity at the cost of the environment. It is focused on producing cheap commodity crops and animal products for the food industry and export markets, rather than nutritious food for the local population. Globalised food supply chains are complex, opaque, and riddled with exploitation. This industrial agri-food system is highly vulnerable to our rapidly changing climate, collapsing ecosystems, and shifting geopolitics – with droughts, floods, new pests, and economic shocks hitting farmers hard.
A different model is possible. All over Europe there are inspirational stories of farmers who choose to move away from damaging agricultural practices and to re-invest in local, resilient supply chains. When people farm with nature, rather than against it – what we call agroecology – we see life return to the countryside, improvements in human health and food quality, and a resilience in our farmland that will last long into the future.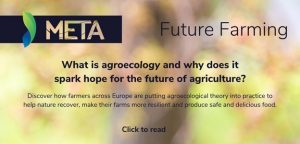 EU agricultural policies are not fit for purpose
Despite several reforms, the CAP continues to prop up intensive agriculture and even directly fund harmful practices, such as intensive livestock rearing or farming on drained peatlands, two major sources of GHG emissions.
The EEB closely monitors the implementation of the Common Agricultural Policy in collaboration with our members. Read our thematic briefings reviewing the state of nearly final national Plans in 2022:
Peatlands and wetlands in the new CAP too little action to protect and restore
Space for nature on farms in the new CAP not in this round
Grasslands in the new CAP, bad news for biodiversity and climate
Soil and Carbon farming in the new CAP alarming lack of action and ambition 
Towards agroecology
The EU needs to initiate and support a just transition for our farming sector. Intensive agriculture is harming our health and the planet, so we must urgently move towards agroecology. This cannot happen without a fundamental reform of the Common Agricultural Policy as well as broader policy changes:
Farm subsidies must stop funding intensive, destructive agriculture and instead support farmers to produce healthy food while taking good care of the environment and climate.
The CAP must be more democratic and accountable. This policy is paid for by taxpayers and it affects us all, so it should be shaped inclusively and transparently, and public authorities should be bound to deliver on concrete targets.
The EU's trade policy must be coherent with its sustainability and climate objectives. For agriculture that means moving to 'less and better' trade which supports good livelihoods for producers in Europe and beyond.
We must change our consumption patterns towards less and better animal proteins, as part of healthy and sustainable diets. This is a key prerequisite for the transition to agroecology, as reducing meat, dairy and eggs in our diets will significantly reduce the pressure on land and other resources needed to produce our food.