The European Environmental Bureau and The Green Screen are pleased to invite you to the screening of the movie "Earth: muted" and to an online debate.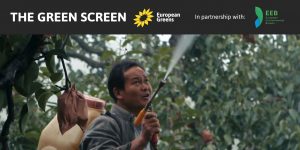 Insects provide pest control and pollinate crops, enabling farmers to produce food. They also feed wildlife allowing it to flourish. But our environment is over-polluted with pesticides and many other harmful chemicals. Because of intensive farming and its reliance on chemical pesticides, European waters and agricultural soils are heavily polluted, pollinators are declining, human health is endangered, and food security is at risk.
To protect human health and the environment, the European Commission is reforming the legislation on the use of pesticides. The legislation will include a 50% reduction in the use of chemical pesticides by 2030 and more sustainable farming practices. But the pesticides industry and agri-industry lobby are trying to boycott these objectives. The same vested interests are intoxicating the Global South by exporting pesticides that are not allowed for use in the EU. Will the European Union achieve meaningful reform of the legislation on the use of pesticides and work towards ensuring a similar level of protection for farmers, people, and nature in the Global South?